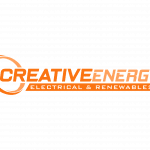 Website Creative Energy Ltd
Contracted Hours
Contracted 25 hours
Working Pattern
Shift patterns can be discussed and established. Candidate should be fairly flexible.
Hourly Rate
National Minimum Wage based on age.
Job Placement Summary
Creative Energy is a small company looking to grow in big ways over the next couple of years. We are in a position to capitalise on the growing renewables market and looking for people to join the journey.
The role will entail a broad range of work from managing social media, answering enquiries to selling our products. If you are local and not working remotely you will be able to visit sites in which heat pumps, solar pv and ev charging is being installed and gain hands on experience a well as the office work involved. This hands on experience will help you gain knowledge on our services enabling you to converse with customers more professionally and advise them on what services best suits their needs.
As a growing company there are opportunities to work in any format you wish and over the placement we can adapt our role to suit your interests.
Skills, qualifications and experience
-Excellent Communication Skills
-Computer Literate
-Professional manner
-Passion for sales
-Interest in renewables/ electrics

Company benefits
Opportunity to develop confidence.
Good working environment.
Good working experience.
Employability training provided.
To apply for this job please visit a.